Tax Preparation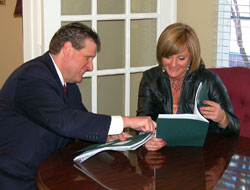 Tax services with The Wucinski Firm go well beyond meeting quarterly and annual deadlines. Our firm takes a proactive approach to tax planning, working together as an integrated team of professionals to reduce the tax burdens of our individual and business clients.
The Wucinski Firm is experienced in all aspects of tax preparation, planning, compliance and negotiation with taxing authorities. We understand today's changing laws and regulations and can assist in evaluating alternatives that will help you make informed decisions consistent with your professional and personal objectives. We offer high-level planning and consulting for businesses and executives and we also serve the tax planning and preparation needs of individuals. Our philosophy of maintaining close client relationships allows us to consistently focus on the details of each and every client's individual circumstances. We work hard to identify opportunities and then work with you to create tax savings plans to help you achieve both your immediate and future goals.
Just moved to the Dallas area? We can make your transition easier by helping to prepare your out of state tax returns. You may qualify for special deductions due to your moving expenses, job search, and home closing costs. We specialize in out of state returns. Whether you are new to Dallas or are planning to relocate, we can assist you in filing your tax return for any state.