About Us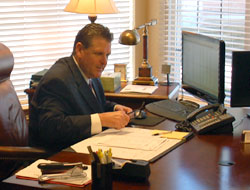 John Wucinski is a graduate of the University of Wisconsin with a BS in Accounting. He is a Certified Public Accountant, and Certified Financial Planner. He has his series 7 security license and insurance license. He is affiliated with Cetera Advisor Networks, LLC which is his Broker Dealer.
John began his career after his college graduation in 1981, when he relocated from Wisconsin to Houston, Texas to work for Dresser Industries, an oil and gas conglomerate. He was transferred with Dresser to their Dallas Corporate Headquarters.
After working in corporate accounting for several years, John realized he had an entrepreneurial spirit and opened his own CPA firm in 1988. He then pursued additional education to obtain his securities licenses and his certification in financial planning.
John is a father of 2 daughters. The oldest is a graduate of TCU, and the other daughter attends UT and is majoring in engineering. His wife, Connie, works in the practice with John and they pride themselves on long term and personal relationships with their clientele.
John specializes in tax preparation for individuals, Corporations, and Partnerships. He deals with a diverse client base representing a wide variety of businesses and industries. During his 25 years in business he has "seen it all" and is equipped to handle your tax, accounting, and investment needs.
Chris McCleary is our in house Staff Accountant. Chris has been working with us for three years and our clients are very pleased with his Quickbooks expertise and hands on training. Chris is a Quickbooks Advisor, and his 18 years in accounting and tax preparation makes him an essential part of our team. He is of great help to our business and individual clients.