Financial Planning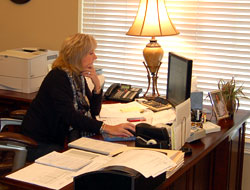 Careful planning is key to achieving your financial goals. Whatever your goals may be — from sending children to college and retiring comfortably to passing your hard-earned estate assets on to loved ones — our professionals will evaluate your situation and help you determine which strategies are right for you.
While developing a customized financial program, we will walk you through a step-by-step process that will help make you feel confident in your decisions.
Once your goals have been established, we will customize appropriate strategies to suit your vision and objectives. We can help you execute a sound financial program utilizing the following products and services:
Tax management
Financial Planning
Investment management
Retirement strategies
Estate conservation
Insurance and annuity products
Securities and advisory services offered through Cetera Advisor Networks, member FINRA, SIPC .
. Cetera is under separate ownership from any other named entity.