Professional Tax and Accounting Service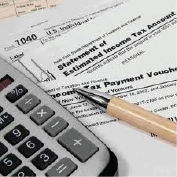 Protect your bottom line with professional tax and accounting service by John Wucinski, CPA, CFP. For over 25 years our firm has provided the tools for business success. We provide a complete line of business services featuring accurate tax and accounting service, bookkeeping, payroll, business entities, and more. Now you too can take advantage of our expertise to improve your bottom line and increase profits.
If you are an individual or a business establishment looking for a quality accounting service, we have all the resources you need to help you build your business. We specialize in tax preparation, Quickbooks accounting, retirement and estate planning, 401K Rollovers, and investments. Whether you are an individual or small business looking for timely and efficient accounting, we are here to help with your tax preparation.
Are you looking for a dependable tax and accounting service to help assist with your business affairs? The Wucinski Firm in Dallas, TX is your local CPA with over 25 years of experience offering local families and businesses innovative solutions for tax planning, bookkeeping, general accounting service, investments, and more. Browse our website or call 972-404-1650 to find out more about our accounting services:
Bookkeeping
Retirement Planning